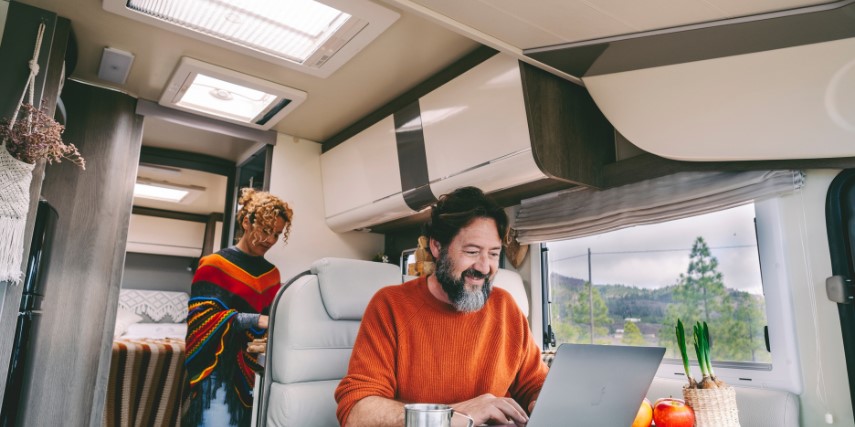 Do you have some flexibility in your schedule and an adventurous spirit? If so, you're a great candidate for full-time RV living. But before you jump at the chance to buy your neighbor's used RV, there may be good reasons to pass up that deal.
RV living is a big decision, and a big part of how successful it is and how much you enjoy this lifestyle will come down to your vehicle. Here are four factors you'll want to keep in mind:
Size: If you're accustomed to living in a house, you won't want to downsize to an RV without some serious thought about what size will make you most comfortable. Start with a recommendation based on how many people you have. For instance, a family of four might begin by considering RVs that are 36 to 42 feet in length. By narrowing your options down to a smaller window, you'll be less likely to get overwhelmed.
It's also a good idea to rent an RV or two to see what you like and what you don't. This might seem like a pricey experiment, but you'll save a lot of money and headaches in the long run.
On-the-Go Plans: Your mobility matters a lot when it comes to choosing a vehicle for RV living. Will you settle in one spot? Or do you plan to move every couple of weeks? Don't choose a large destination trailer if you plan to move often.
Motorhome Versus Trailer: If you already own a towing truck, a fifth wheel may seem like the obvious and most economical choice. But take time to consider what you're planning to do. If you plan to stay in one place most of the time, a trailer works great. But bigger motorhomes will gain longevity the more you move them.
Features, Bells and Whistles: A lot of decisions around RV living are simply preferences, and this is why it sometimes makes more sense to buy a new, customized RV. The model you choose will likely have multiple floor plans and a lot of options for features. Begin making a list of deal-breakers and things you would like but aren't absolutely necessary.
Make Plans for Preventative Maintenance
No matter what vehicle you choose for RV living, you'll want to have a solid repair shop you can count on for preventative maintenance. At Gray Diesel & Equipment Services, you will find experienced mechanics at our two locations in Lincoln, Nebraska and in Lexington, South Carolina. Contact us to schedule your first appointment.