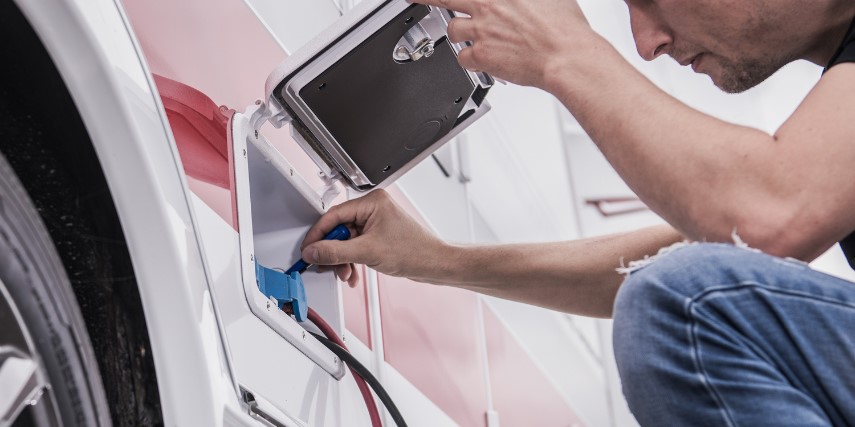 You've just purchased a new RV. You're sitting with your family mapping out your first adventure, trying to determine how many locations you can fit into your two-week vacation window. After all, last year, you put in two 15-hour days in the minivan. Piece of cake. But that was before you had RV maintenance to consider.
Now that you're an RV owner, it's time to get familiar with RV safety. That means a whole new approach to the way you schedule your adventures. You simply can't drive as many miles in a day when you're operating an RV versus speeding along in a regular car. That's why many RVers embrace the 3-3-3 rule.
What is the 3-3-3 Rule?
This standard guideline for driving encourages 300 miles of driving per day, arriving by 3 p.m., with a minimum of three days at each stop. Let's break it down a bit to understand how this supports RV safety.
300 Miles: Most RV tires are recommended to travel at a maximum speed of 65 miles per hour. In addition, driving a vehicle that weighs up to 40,000 pounds or pulling a fifth-wheel trailer requires a much higher level of concentration. As a result, driver fatigue can set in earlier than when driving a car. Here are a few of the most common signs of fatigue:
Drowsiness
Losing concentration or sense of direction
Sloppy turns or slow reaction times
Limiting your travel to 300 miles a day helps you avoid unnecessary RV maintenance. You're not as tempted to drive faster than what your tires allow or to drive in a way that is harder on your engine, with fast starts and stops.
Also, if you plan to follow the 3-3-3 rule, you might be surprised to find that it is not always easy to make 300 miles by 3 p.m. With packing up your camp, bathroom stops and meals, you may find that you have to get started relatively early.
3:00 p.m.: The second element of the 3-3-3 rule is to arrive by 3 p.m. at your destination. This allows you to enjoy some hours of daylight at your campground, gives your kids time to swim or explore and plenty of margin before hunger for dinner has everyone snapping at one another as you set up camp.
Many campgrounds have attendants on the clock between 10 a.m. and 3 p.m., so arriving by 3 also ensures you can get help addressing any potential issues with your site.
Stay for Three Days: The final component of the 3-3-3 rule is to stay for three days. This gives you plenty of time to rest up after a full day of driving and enjoy a full two days at your location. It also gives you time to perform any RV maintenance that came to your attention as you traveled.
Alternatives to the 3-3-3 Rule: You can also consider the 2-2-2 rule, which allows for 200 miles per day, arriving by 2 p.m. and staying for two nights. The 4-4-4 rule is another option, which recommends something slightly different: driving four hours per day, arriving by 4 p.m. and staying for four nights. You may want to consider these options, depending on how many sites you would like to visit and how much time you prefer for recovery after driving for a day.
It's important to consider the type of vehicle you're driving when planning your road trip, especially if you are new to RV safety concerns. Contact us at Gray Diesel & Equipment Services to schedule RV maintenance before you set off on your first adventure!