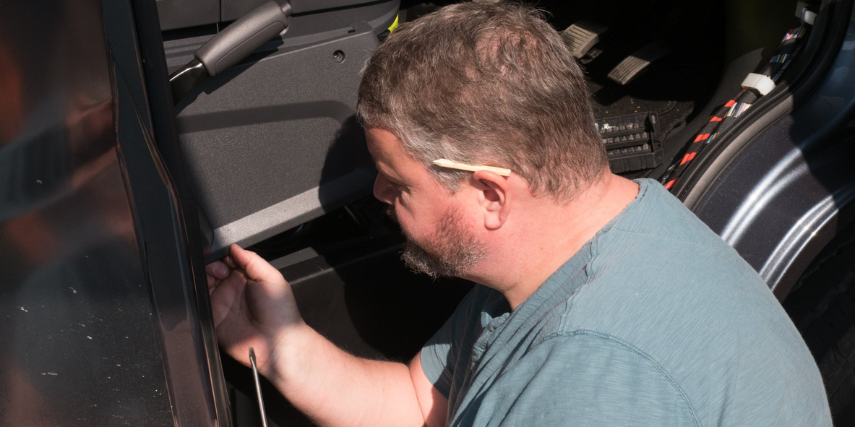 Owning an RV comes with great freedom; you can travel anywhere while bringing along all the comforts of home. But it also comes with an RV maintenance schedule to keep your vehicle in top working condition.
Preventative maintenance can feel like a lot to manage, but it is effective at reducing the risk of a costly repair. A small issue left unaddressed can turn into a repair that eats into your travel budget and your plans for adventure. Here is a guide to monthly and before-trip RV maintenance.
Monthly: There may be seasons or stretches when you are too busy to get your RV out on the road, but that shouldn't cause you to skip your preventative maintenance. There are several areas you should check and maintain each month:
Seals: Look for gaps and reseal around any openings to prevent water or air penetration. Check the windows, sidewalls and doors to be sure the elements aren't able to get through.
Slide-Outs: A regular cleaning and lubrication of slide-outs helps to ensure optimal use. There are RV-specific spray lubricants available that help reduce the resistance to the motors.
Batteries: Check your batteries and keep them charged. Top off the water levels with distilled water, and if you'll be storing your RV for the winter months, remove the battery for storage in a warm place.
Hoses and Clamps: Take a look under your hood to check for any leaks. You may as well check all fluids to see that they are topped off and ready for a trip.
Generator: Run your generator for at least two hours at 50% load each month that it is stored. Check your owners' manual to see how often your oil and filter should be changed.
A/C Unit: Vacuum your air conditioner vents to keep the air cold and constant in your RV.
Before-Trip: A few hours spent on RV maintenance may prevent you from having days of lost time on the road.
Manuals: One of the best steps you can take is reading your owner's manuals before you get on the road. If you're pressed for time, prioritize reading the operations, maintenance and warranty sections of the manuals you received when you purchased your RV. These important pieces of information can help you act quickly if there is any kind of challenge with your RV on the road.
Tires: An overinflated tire can cause a blowout, while an underinflated tire will wear unevenly and hurt your gas mileage. You also want to check your tires to clean off tar and dirt and look for places where there are cracks or dry-rot. Look at the wheels and check for loose lug nuts.
Electrical Connections: Be sure that the electrical connections from your tow vehicle to your RV are working properly. Check the brake lights and turn signals and ensure you will be able to safely communicate with other drivers.
Some regular RV maintenance can be done by you at home, but when you need a mechanic's assistance, turn to Gray's Diesel & Equipment Services. Schedule an appointment today for a preventative maintenance check.